Stay-tuned for special events and performances throughout the year!
Coming in December: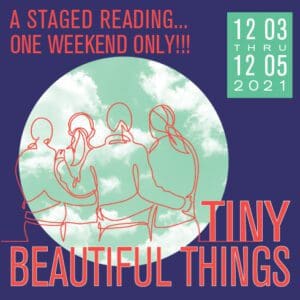 A staged reading of

TINY BEAUTIFUL THINGS
Our first in-person event since March 2020!
Tiny Beautiful Things is a play about reaching when you're stuck, healing when you're broken, and finding the courage to take on the questions which have no answers.  Based on the best-selling book by Cheryl Strayed and adapted for the stage by Nia Vardalos, Tiny Beautiful Things gives the audience permission to be "happy and sad and angry and grateful and accepting and appalled and every other possible emotion, all smashed together and amplified"…while offering  a big dose of catharsis.
Directed by Virginia Reed
Featuring:  Pamela W. Allen, Dan Kozloff, Laurel Livezey, and Jasmine Norris
Music by:  Misner & Smith
Sound Design:  Ken Krauss
Lighting Design:  Dale Cohn
Stage Manager:  Gus Mayeno
Assistant Stage Manager:  Katan Sosnovec
PLEASE NOTE: Tiny Beautiful Things contains discussions about sexual assault, child abuse, drug abuse, and suicide.
* Audience members must show proof of vaccination. Masks must be worn in the theatre at all times.
Tiny Beautiful Things is presented in arrangement with Concord Theatricals on behalf of Samuel French, Inc.  www.concordtheatricals.com


"Phases"…a performance by

MENDOCINO

DANCE PROJECT
December 9 – 11
Mendocino Dance Project returns to the MTC stage with three performances in December!
"Mendocino Dance Project's newest work is a reflection of the past year and a half and our shared experience on both a communal and personal level. We have all experienced a variety of challenges, emotions, frustrations and joys in this very strange time in our history, and for MDP it has been dance and the creative process that has kept us resilient and hopeful." 
Find out more about Mendocino Dance Project
here.