44781 Main Street, Mendocino, CA 95460
Alegria Inn is situated on the ocean side of Main Street in historic Mendocino Village. The inn property consists of the Main House and a collection of cottages nestled on a bluff overlooking Big River Beach with an ever-changing ocean cove. Guests enjoy beautiful perennial gardens, an ocean view deck and hot tub, a path to the beach, and delicious breakfasts.
7901 N. Highway One, Little River, CA 95456
(Two miles south of Mendocino village)
With Victorian elegance, The Little River Inn perches majestically overlooking the Pacific Ocean, surrounded by inspirational views, lush gardens and dramatic coastline. The Little River Inn has graciously greeted guests for five generations and is the only family owned and operated full destination resort on the Mendocino Coast. Little River Inn's guest rooms all feature stunning ocean views, many have fireplaces, luxurious steam showers, Jacuzzi tubs, or individual hot tubs. Dramatic and ever-changing ocean views provide a breathtaking backdrop for your stay. Little River Inn is renowned for generations of family-friendly hospitality. This extends naturally to the four-legged members of your family as well, for there are many pet friendly accommodations from which to choose. This beautiful resort also features on-site golf, tennis, and award winning dining.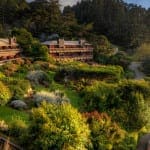 Coast Hwy. & Comptche Ukiah Rd. Mendocino, CA 95460
Nestled on a Mendocino Coast hillside, Stanford Inn, a Mendocino Resort, sits atop a meadow overlooking Mendocino Bay. Embodying the best of the rugged Mendocino Coast, this Mendocino Resort is a haven … an exquisite opportunity to reconnect with nature. The rambling lobby of the Mendocino bed and breakfast is spacious and welcoming. Guest rooms and suites of this boutique hotel in Mendocino are paneled in pine and redwood. Every detail is attended to, from wood-burning fireplaces set and ready to light to the sumptuous chef-prepared organic breakfasts. Inspired by the Stanford's Certified Organic gardens, The Ravens' Restaurant, featured in Oprah Magazine is outstanding and nationally acclaimed for vegan cuisine. Guests at Stanford Inn, as well as local Mendocino residents, consider Ravens' Restaurant to be an essential dining experience on the Mendocino Coast. Mendocino's Stanford Inn & Ravens' Restaurant is the only vegan resort in the United States. This Mendocino eco-resort specializes in romantic getaways, is pet-friendly, family-friendly, and welcomes meetings, group retreats, and is especially popular for Northern California Coast weddings and elopements.