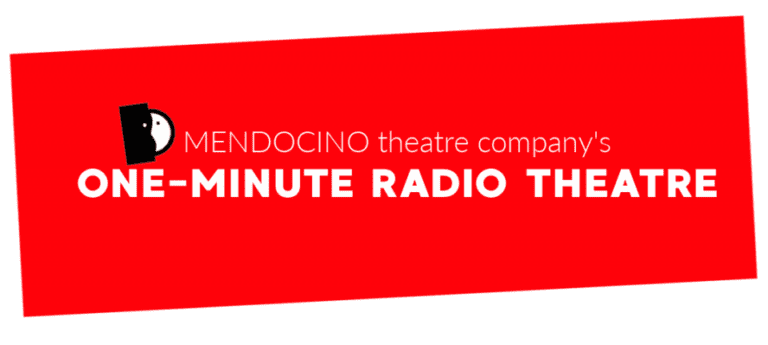 Mendocino Theatre Company's One-Minute Radio Theatre celebrates brevity, with a new one-minute play every Tuesday and Thursday at 8 PM on KZYX, Mendocino County's Public and Community radio station.
Previously Aired Playlist ...
Sound production and design

Ken Krauss

Directed by

Lorry Lepaule

Pamela W. Allen, Janet Atherton, Nancy Bartke, Raven Deerwater, Mark Friedrich, Mervin Gilbert, Annabel Guinan, Liz Helenchild, Phannarai Inkun, Dan Kozloff, Ken Krauss, Lorry Lepaule, Laurel Livezey, Susan Maeder, Gus Mayeno, Scott Menzies, Laura Pinyuh, Sarah Rose, Scott Wells
Mendocino Theatre Company's One-Minute Radio Theatre is a project for the community and we want all voices to be heard!   Plays can be in English or Spanish. There's NO fee for submission, there is no cash award if your play is chosen; all our actors and directors give their time free of charge. 
Please submit your one-minute play* (app. 150-170 words, for 1-3 actors) in the body of an email (no attachments, please) to mtc@mcn.org with the subject MTC One-Minute Play: [Title of your play]. Include your full name, contact information, and a brief, 50-word bio. You may submit as many one-minute plays as you wish, but only one submission per email, please. 
*NB: Play may not contain the "seven dirty words", which are prohibited by the FCC. Play must be totally original and the author's own work.MT
El radioteatro de un minuto de Mendocino Theatre Company es un proyecto para la comunidad y queremos que se escuchen todas las voces.  Las obras pueden ser en inglés o en español (¡o bilingüe!). No hay costo de presentación, no hay pago en efectivo si su obra se realiza.
Por favor, envíe su obra de un minuto* (aprox. 150-170 palabras, para 1-3 actores) en un correo electrónico (no lo envíe como un archivo adjunto, por favor) a mtc@mcn.org y escriba en el asunto "MTC One-Minute Play: [Título de la obra]". Incluya su nombre completo, información de contacto y una breve reseña personal de 50 palabras. Puede enviar tantas obras de un minuto como desee, pero sólo una por correo electrónico, por favor.
*Nota: La obra no puede contener las "siete palabras sucias", que están prohibidas por la FCC. La obra debe ser totalmente original y del propio autor.