Date: March 30, 2022
Announcing auditions for our first main stage youth production, LOCKDOWN by Douglas Craven, directed by Lorry Lepaule, which will be performed June 23 to June 26, with one live-streamed performance, TBD.
Auditions will be held on March 30 & 31, 3:45 pm to 5:30 pm at the Mendocino Theatre Company, 45200 Little Lake Street, Mendocino.  Perusal scripts are available at the MTC office.  For more information, email Pamela, mtc@mcn.org.
About the play:
In a dark classroom, eight high school students sit in an "official lockdown," not knowing if it's just a drill or an actual emergency. When a hysterical freshman student bolts from the room and the teacher follows, the remaining students are left alone to decide if it's safer to stay or run.
Roles:
There are roles for eight teenagers and one adult.  No experience necessary; all are welcome to audition. MTC is committed to upholding an accessible, inclusive space for people of all abilities, ethnicities, gender identities, races, and sizes.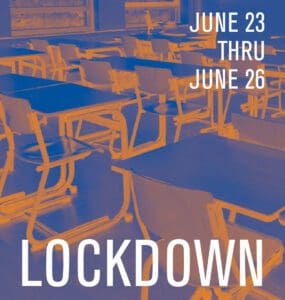 Sign up below...